A mobile application, most commonly referred to as an app, is a type of application software designed to run on a mobile device, such as a smartphone or tablet. Mobile applications frequently serve to provide users with similar services to those accessed on PCs.
The purposes of the apps is to provide utility, productivity, and navigation to entertainment, sports, fitness, and just about any other imaginable.
Smart watches and fitness trackers are two examples of how mobile technology is changing. The internet for things (IoT) has allowed for technologies like remote control of home appliances, heating and security systems; there is no doubt that things like this are the future of the IoT. From innovations like a connected car, health monitors, Google glass, fitness trackers and latest smart watches, the future of mobile application seems to integrate them perfectly into all aspects of our lives.
But, before starting to work on one, Let's go to know some app usage stats that can help you create an intelligent app development and marketing strategy.
Mobile Usage
Almost everyone is having a smartphone today and the usage of smartphones in people's day-to-day life is growing exponentially. There are 5.29 billion mobile phone users in the world today, according to the latest data from GSMA Intelligence and in it 3.2 billion people are using smartphones in the world and the growth of mobile applications has been steadily on the rise anchored on the swelling number of smartphone users across the world.
Internet usage on mobile has been rising as desktop internet usage has stalled
Americans spent eight percent more time on mobile than watching live TV each day.(Source)
Generation Z (ages 6-24), Millennials (ages 25-40), and Gen X/Baby Boomers (ages 41-75) spend 16 percent, 18 percent, and 30 percent more time year-over-year,respectively, in their most-used apps. (Source)
Only eight percent of time spent on mobile is spent using a web browser (Source)
In 2021, China had more smartphone users than any country in the world at almost 912 million. India had the second most smartphone users, although less than half as many as China.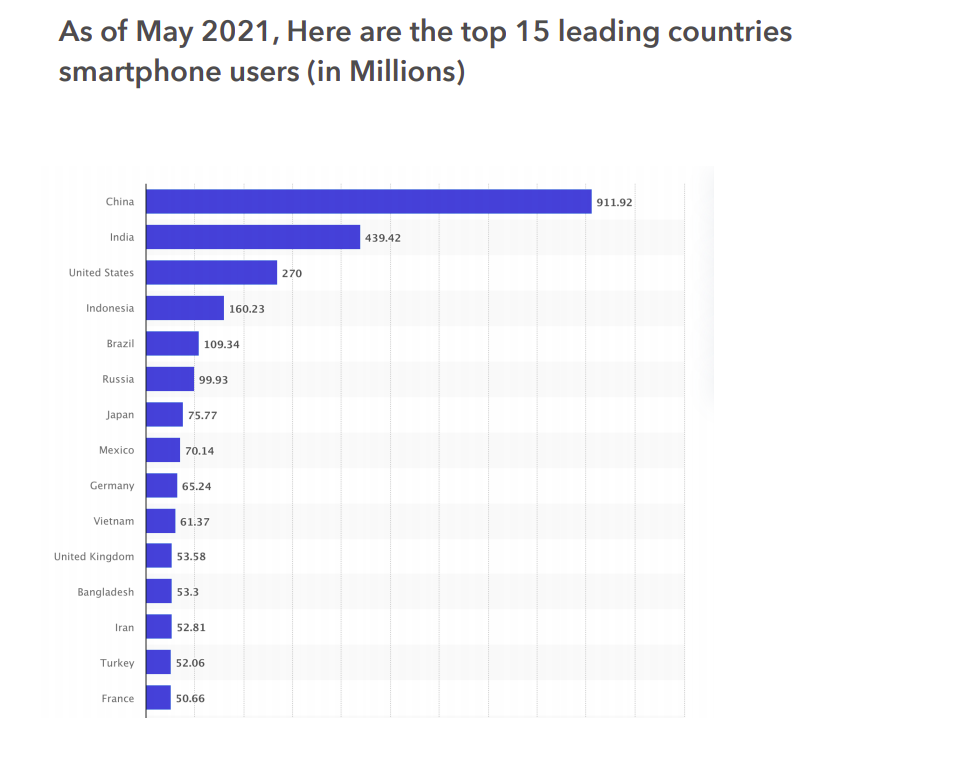 Mobile App Downloads
It is not surprising that an average smartphone user has more than 40 apps installed on their phone. However, only 10 to 20 are the apps are actively used.
The iOS App Store launched in 2008 with an initial 500 applications available.Today, 1.85 million different apps are available for users to download. Android users have even more from which to choose, with 2.56 million available through the Google Play Store. (Source)
In the third quarter of 2021, users downloaded 27.6 billion apps from Google Play. In contrast, mobile app only generated roughly 8.1 billion downloads in the Apple App Store. The Google Play platform has always made up the bulk of app downloads but the Apple App Store is stronger in terms of revenue generation.
There is a report from Statista saying that for every four non-gaming applications available on the App Store, there is a gaming application.
According to Statista, the market share of Android devices is 87% and hence, the competition in Google Play Store is a lot lighter than in the App Store and it underscores the scope for market growth in Google Play Store for various mobile app development initiatives in India that wish to list their applications in these stores.
Apple's App Store has over 500 million weekly visits.
Social media mobile apps are the most used app category
Google Play Vs App Store Downloads
Google Play Store and the App Store are the most recognizable app stores in the world. People with devices running on the iOS will download the apps that they need from the Apple App Store while users with devices running on Android OS will download apps from Google Play Store. The total number of downloads in Google Play Store was 27.6 billion in the second quarter 2021. During the same quarter, the number of app downloads in the App Store was 8.1.
Number of Apple App Store and Google Play mobile app downloads worldwide from 3rd quarter 2016 to 2nd quarter 2021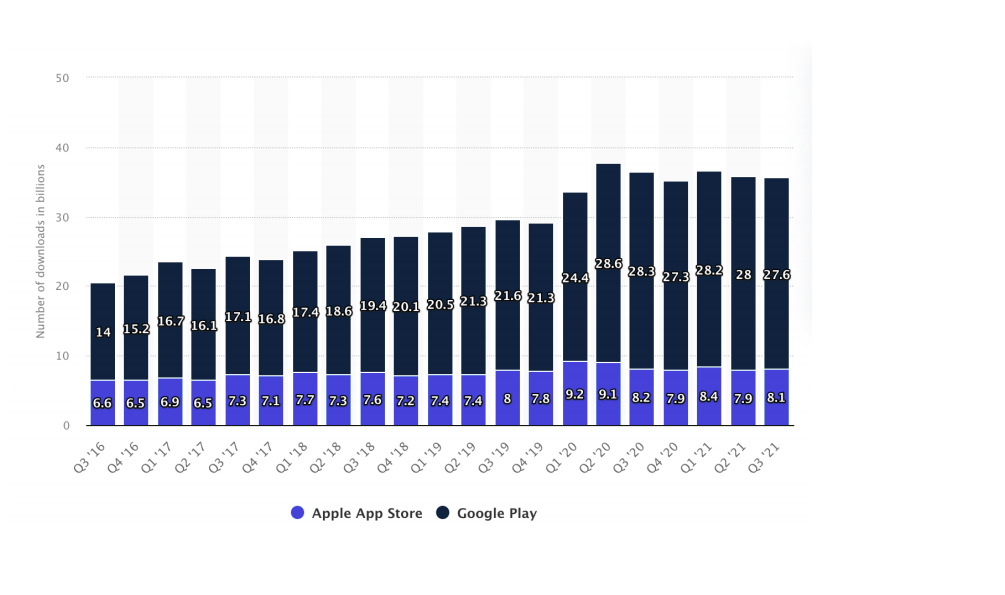 Most Popular App Categories
we can say the mobile application market has exploded in recent years. People are more focused to build a mobile app using the latest technology trends. Because apps are an integral part of the whole smartphone ecosystem, whether it's iOS or Android. These apps are what truly make the mobile experience engaging and fun.
Now, these apps are split and bundled under different categories of mobile apps. The categories are formed depending upon the features of the mobile applications.
There are over 20 categories of mobile apps. The Google Play Store has about 33 mobile app categories. On the other hand, the App Store from Apple has about 24 categories of mobile applications.
The top 5 most popular app categories – Games, Business, Education, Lifestyle, and Utilities make up about 50% of app share on Apple's (iOS platform) App Store. (Source: Statista)
As of June 2021, business apps were the second-most popular category in the Apple App Store with a share of 10.10 percent of active all apps being business apps. Games were the most popular iOS app category, accounting for a total of 21.49 percent of active apps.
Most popular Apple App Store platform categories in June 2021, by share of available types of apps
Global Apple & Android Apps Spending
There's an app for almost everything these days. From online delivery of food, groceries,and day-to-day stuff. And people aren't shy of spending money on the apps.
Overall consumer spending on in-app purchases, premium apps, and subscriptions grew 15.1 percent Y/Y to $33.6 billion from $29.2 billion, across Apple's App Store and Google Play Store in the first half of 2021.(Source)
Compared to the Play Store, Apple's App Store saw relatively modest growth. The revenue from App Store grew 13.2% – from $19 billion to $21.5 billion compared to last year
According to International Business Times, the App Store receives over 1,000 app submissions every day.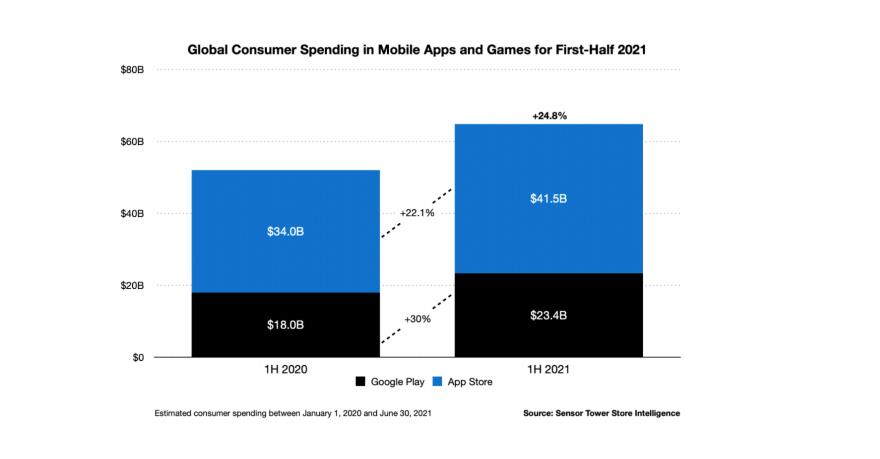 How to market an app
Over around four million of apps are available from the world's leading app store today. Marketing strategy is the only way to stand out in today's app market
While focusing on mobile app development and building an app that functions properly is a central factor for success, if users' don't know the product exists, your hard work is worthless. Before developing any applications have a complete understanding to the below questions to make your app's success.
Who is the target audience for your app?
Why will they be interested in your product?
How are your competitors currently targeting the same audience?
And this are the some essential app marketing strategies
It is the process of improving your app's visibility in the App Store and Google Play Store. It requires you to identify and utilise keywords that will help your app rank high in the App Store. It is also essential to include screenshots of your app and a video of in-app use. You can also make use of secondary app categories so users have more than one way to find your app
Social media marketing
Paid user acquisition campaigns
Influencer marketing
Conclusion
Mobile apps have significantly grown over the past few years. And mobile apps industry industry isn't showing signs of slowing down any time soon. And the future of the mobile app industry is very bright with over 3.2 billion smartphone users and 1.14 billion tablet users worldwide, there's a good market for mobile apps. And studies shows that 88% of mobile usage was spent on apps. And some apps have become an extension of ourselves.
Posted By: Ravi Teja Koduru Siva Naga, Osmosee